> 82nd National Industrial Safety and Health Convention 2023 in Nagoya
82nd National Industrial Safety and Health Convention 2023 in Nagoya
Outline
JISHA holds the 82nd National Industrial Safety and Health Convention 2023 in Nagoya.


General information of the convention (Japanese language only)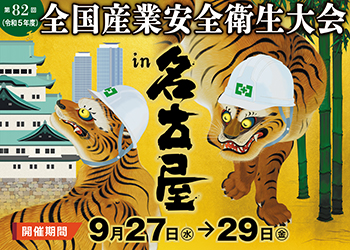 Period
Convention: 27 Sep. (Wed)- 29 Sep. 2023(Fri)
Online: 27 Sep. (Wed) - 13 Oct. 2023 (Fri)
Participants (plan)
Over 10,000 people from industrial sectors
Outline of Schedule (plan)
(All sessions are conducted by Japanese Language.)
27 Sep. 2023 (Wed)
Opening 11:30 Attraction 12:30-13:00 General Meeting Program
(Part 1)
(1) Opening Ceremony 13:15-14:00
(2) Commendation ceremony 14:00-14:25
Commendations for individual persons and companies who have contributed to the promotion of industrial health and safety
(3) Conference Declaration 14:25-14:30
All parties declare that they will work together to prevent industrial accidents
(4) Speech of 50th Anniversary of Zero Accident Movement and Point & Call 14:30-14:45
(Part 2)
15:00-15:30 Speech by Labor Standards Bureau, Ministry of Health, Labor and Welfare
15:30-16:50 Special Speech by Mr. Murofushi Koji, Commissioner, Japan Sports Agency
16:50-17:00 Stretch by Mr. Murofushi Koji & Health Care and Trainer

28th (Thursday) - 29th Sep. 2023 (Friday)
Subcommittees
Each subcommittee will make about 10 to 20 presentations at the following subcommittees per day.
Management System / Risk Assessment subcommittee
Safety Management Subcommittee No.1
Safety Management Subcommittee No.2
Safety Management Subcommittee No.3
Safety of machinery and equipment subcommittee
DX subcommittee
Play of Works
Safety and health education subcommittee
Zero Accident Movement subcommittee
Occupational Health Management subcommittee
Chemical Substance Management subcommittee
Mental health / health promotion / health management subcommittee
Admission
16,500 yen / person
JISHA membership companies 8,250 yen / person / membership
Place
Held at the same time

Green Cross Exhibition 2023 in Nagoya - Japan Industrial Safety and Health Exhibition -

Links to National Industrial Safety and Health Convention and Green Cross Exhibition