Hazard Prediction Activities, namely,

KYT

(PDF 173KB), is a training method well-accepted by many industries in Japan and has significantly contributed to the decline of labor accidents. Aiming at brighter safety & health future in India and other Asian countries, Japan Industrial Safety & health Association (JISHA) and

National Safety Council India (NSCI)

have decided to work together to kick off this program for OSH staff in Asian countries.
Date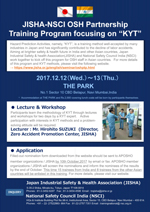 2017.12.12(WED)〜13(THU)(2 days)
Venue
THE PARK(No.1 Sector 10 CBD Belapur, Navi Mumbai, India)
Website:

http://www.theparkhotels.com/navi-mumbai.html

Content
Participants learn the methodology of KYT through lectures and workshops for two days given by a KYT expert. Active participation with interests in KYT methods and a problem-solving attitude will be required.
For more information on KYT, see

Concept of "Zero-accident Total Participation Campaign"

(PDF 173KB)
Program

See the program for details

(PDF 104KB)
Language
English(Translation from Japanese to English and vice versa will be arranged)
Lecturer
Mr. Hirohito SUZUKI (Director, Zero Accident Promotion Center, JISHA)
Training Fee
Free for APOSHO member countries except India ※
(Be noted that Rs.2, 000 for 2- days covering lunch costs will be born by participants themselves and to be paid to NSCI by Cash)
※

Ask NSCI about the training fee if your nomination is from India.
Accommodation
For trainees' accommodation, NSCI will reserve THE PARK, which is the same place with training venue. Accommodation is Rs.4, 000 plus taxes with breakfast, dinner and WIFI per night(to be paid by participants directly to THE PARK). Please kindly let us know if a participant would like to stay a different accommodation other than the designated hotel or don't need an accommodation.
THE PARK(No.1 Sector 10 CBD Belapur, Navi Mumbai, India)
Website:

http://www.theparkhotels.com/navi-mumbai.html

Number of trainee admitted:
15 trainees through the nomination from NSCI / 8 trainees through the nomination from the other APOSHO member organizations except NSCI will be enlisted in this training.
Application period:
October 10, 2017
Training requirements
Those who are eligible for trainings should belong to OSH organizations or private companies in manufacturing industry, and fulfill all the following conditions from A through D.
A.

Those who are recommended by representatives of OSH organization or company he/she belongs to.

B.

Those who have more than three years work experiences for safety and health

C.

Those who have expertise for safety and health

D.

Those who have a good command of spoken and written English to participate in the discussion.
How to apply
Please download the application form below and apply to the OSH organization in your country via e-mail before deadline. OSH organizations are requested to transfer the nomination to JISHA secretariat via e-mail at trajisha@jisha.or.jp by the above-mentioned deadline. JISHA will screen the nominations and inform the nominees and their nominating OSH organizations of the outcome of the selection by Oct.10. Only the eligible nominees for the training will obtain the acceptance letter from JISHA and visa documents issued by NSCI.
APOSHO member organizations
Please understand in advance that in case there are too many applicants, some of the applicants may not be able to attend this program.
Application form
For application and Inquiry
Japan Industrial Safety & health Association (JISHA)
5-35-2 Shiba,Minato-ku,Tokyo, 108-0014 JAPAN
TEL:+81-3-3452-6297 FAX:+81-3-5445-1774
E-mail:trajisha@jisha.or.jp
Contact :International Affairs Center, Technical Department,
S.Azuma(Ms),K.Sumi(Mr),T.Kawashima(Mr)
National Safety Council India(NSCI)
HQs & Institute Building Plot No.98-A, Institutional Area, Sector 15, CBD Belapur, Navi Mumbai - 400 614.
Phones : +91- 22- 27522860- 864 Fax : 91-22-2757 7351
Email : trainingnational@nsc.org.in
Contact Personnel: Mr. V. V. More, Assistant Director, NSC